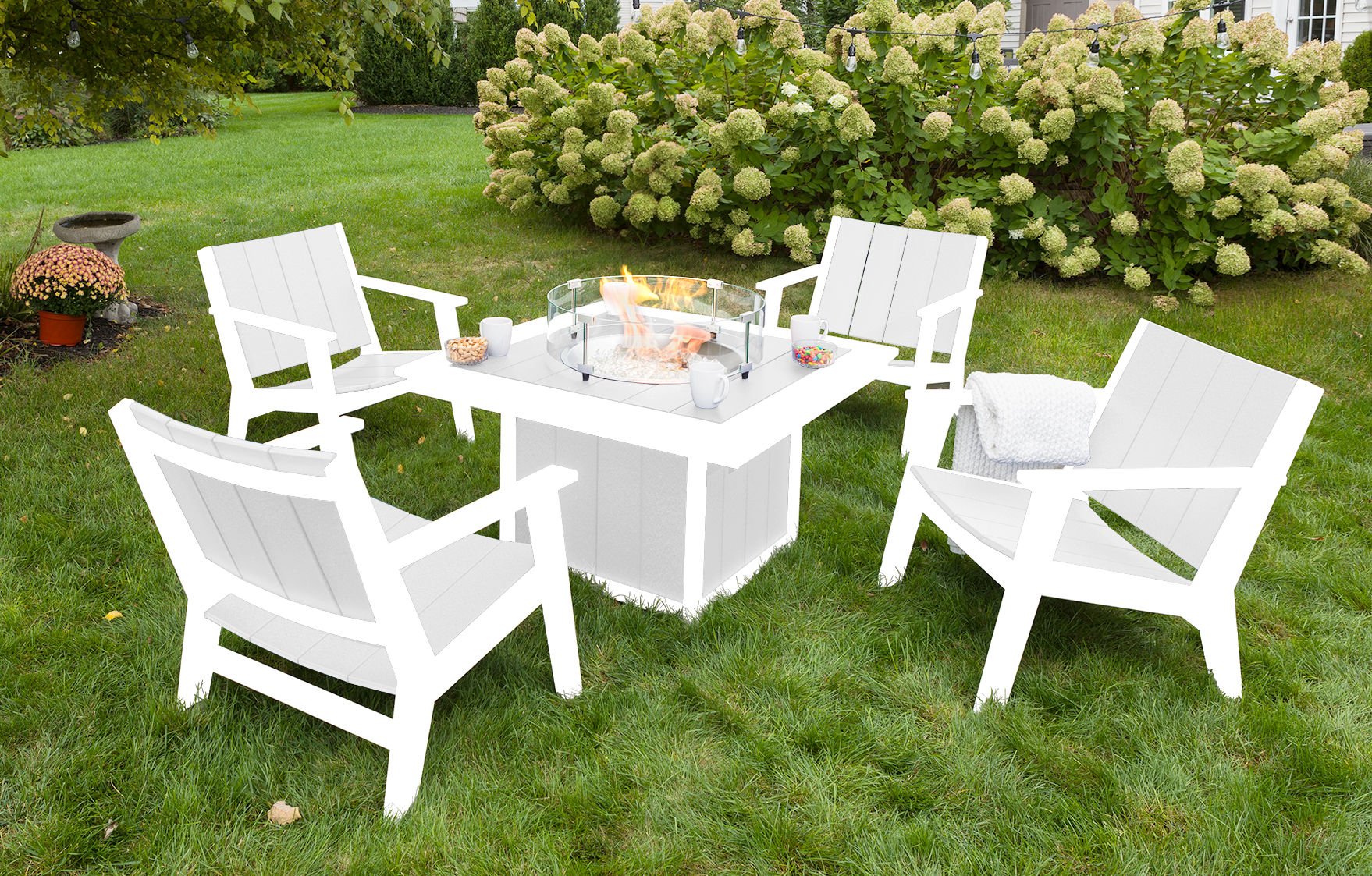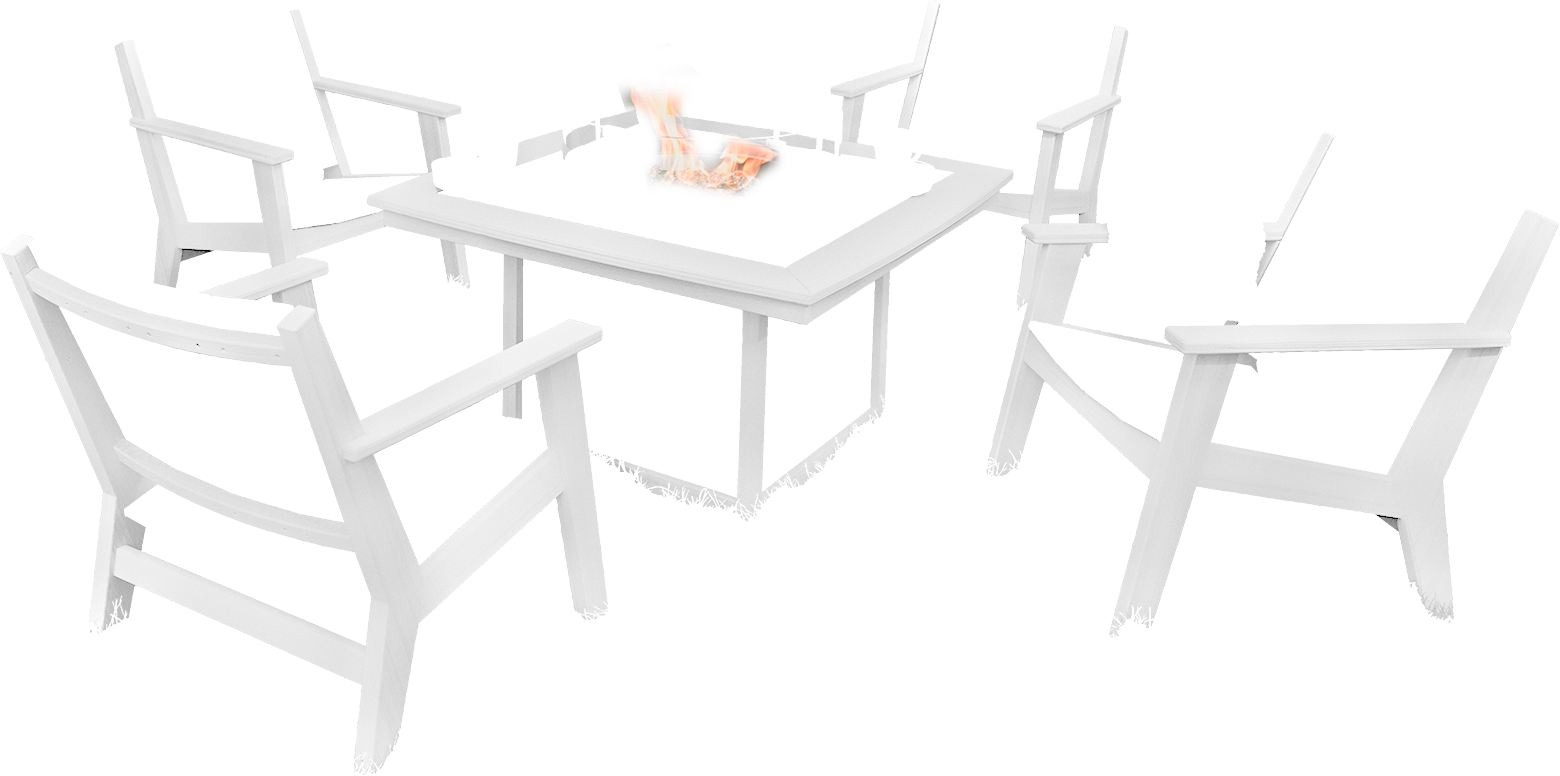 Black

Bright White

Ivory

Tudor Brown

Light Gray

Turf Green

Cherrywood

Dark Gray

Patriot Blue

Weathered Wood

Cedar

Cardinal Red

Blue

Tropical Lime Green

Lemon Yellow

Bright Orange

Aruba Blue

Bright Purple

Bright Red

Pink

Powder Blue

Natural Teak (WOOD GRAIN)

Antique Mahogany (WOOD GRAIN)

Coastal Gray (WOOD GRAIN)

Brazilian Walnut (WOOD GRAIN)

Driftwood Gray (WOOD GRAIN)

Birchwood (WOOD GRAIN)

Seashell (WOOD GRAIN)

Black

Bright White

Ivory

Tudor Brown

Light Gray

Turf Green

Cherrywood

Dark Gray

Patriot Blue

Weathered Wood

Cedar

Cardinal Red

Blue

Tropical Lime Green

Lemon Yellow

Bright Orange

Aruba Blue

Bright Purple

Bright Red

Pink

Powder Blue

Natural Teak (WOOD GRAIN)

Antique Mahogany (WOOD GRAIN)

Coastal Gray (WOOD GRAIN)

Brazilian Walnut (WOOD GRAIN)

Driftwood Gray (WOOD GRAIN)

Birchwood (WOOD GRAIN)

Seashell (WOOD GRAIN)
Fire Table & Jayden Chairs
Spend unforgettable evenings with friends and family around this cozy fire table, warmed by the flickering glow of orange flames. The set includes four cleancut yet comfortable Jayden chairs and one sturdy, square-top fire table. The set's silhouette is pleasingly low to the ground, so you can feel the lush grass or warm sand beneath your feet. There's plenty of table space for snacks and drinks, and the crisp blue-on-white color scheme adds modern zip to any neutral home palette.
Versatile, elegant design. Suits big or small spaces: Gather furniture closer for cozy scenes, or spread out on larger landscapes.
The flame fires up via a simple button ignition, and features an elegant, bowl-shaped flame guard so food and drink temperatures are not affected.
Our fire tables are fitted with burners that utilize cutting-edge technology to produce a taller, brighter, fuller flame.
Flip-Down Tank Access keeps your propane tank out of the weather, but easily accessible.
| | |
| --- | --- |
| Accent Color | aruba blue, black, blue, bright orange, bright purple, bright red, bright white, cardinal red, cedar, cherrywood, gray, ivory, lemon yellow, light gray, patriot blue, pink, powder blue, tropical lime green, tudor brown, turf green, weathered wood, woodgrain antique mahogany, woodgrain birchwood, woodgrain Brazilian walnut, woodgrain coastal gray, woodgrain driftwood gray, woodgrain natural teak |