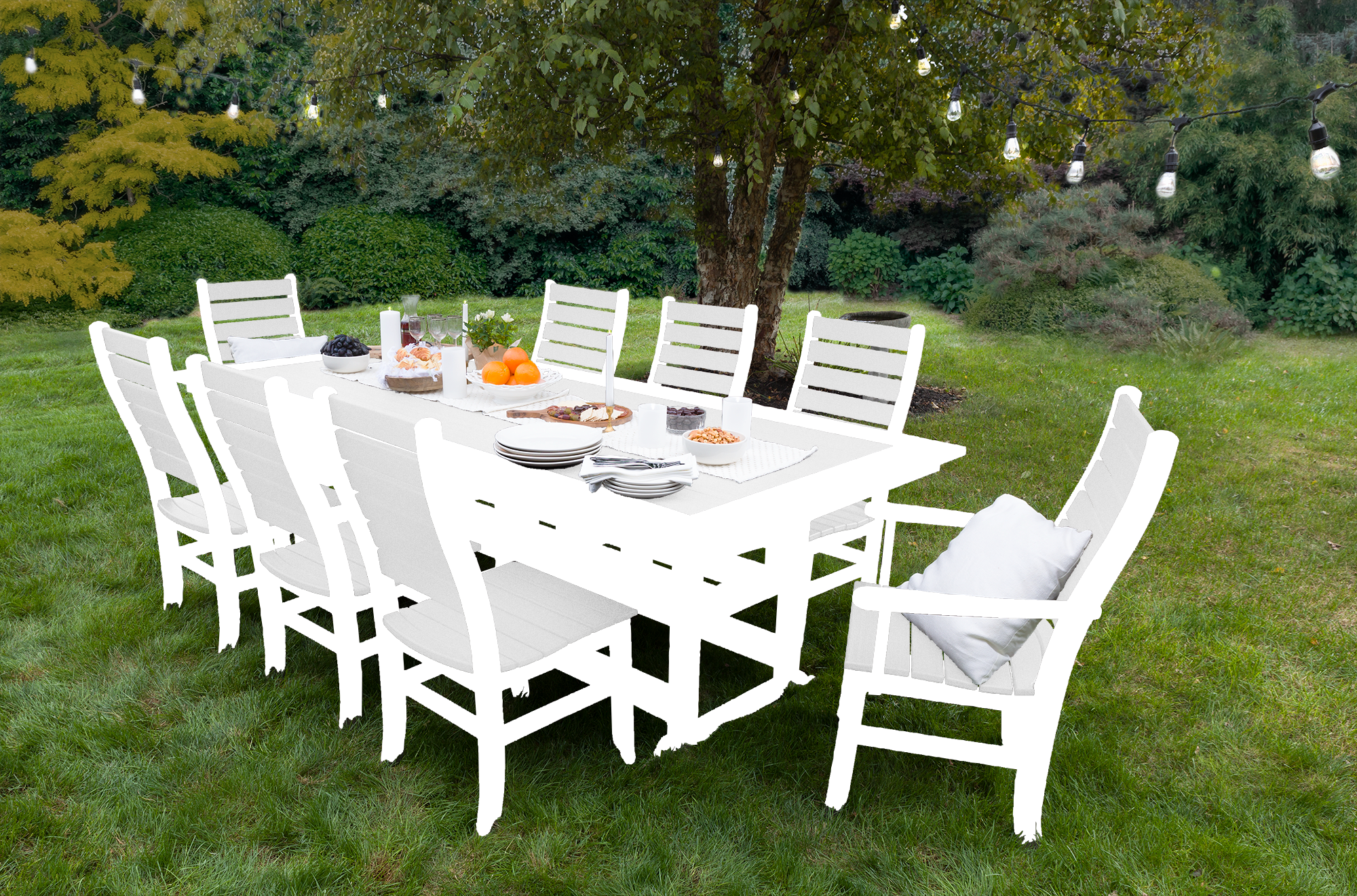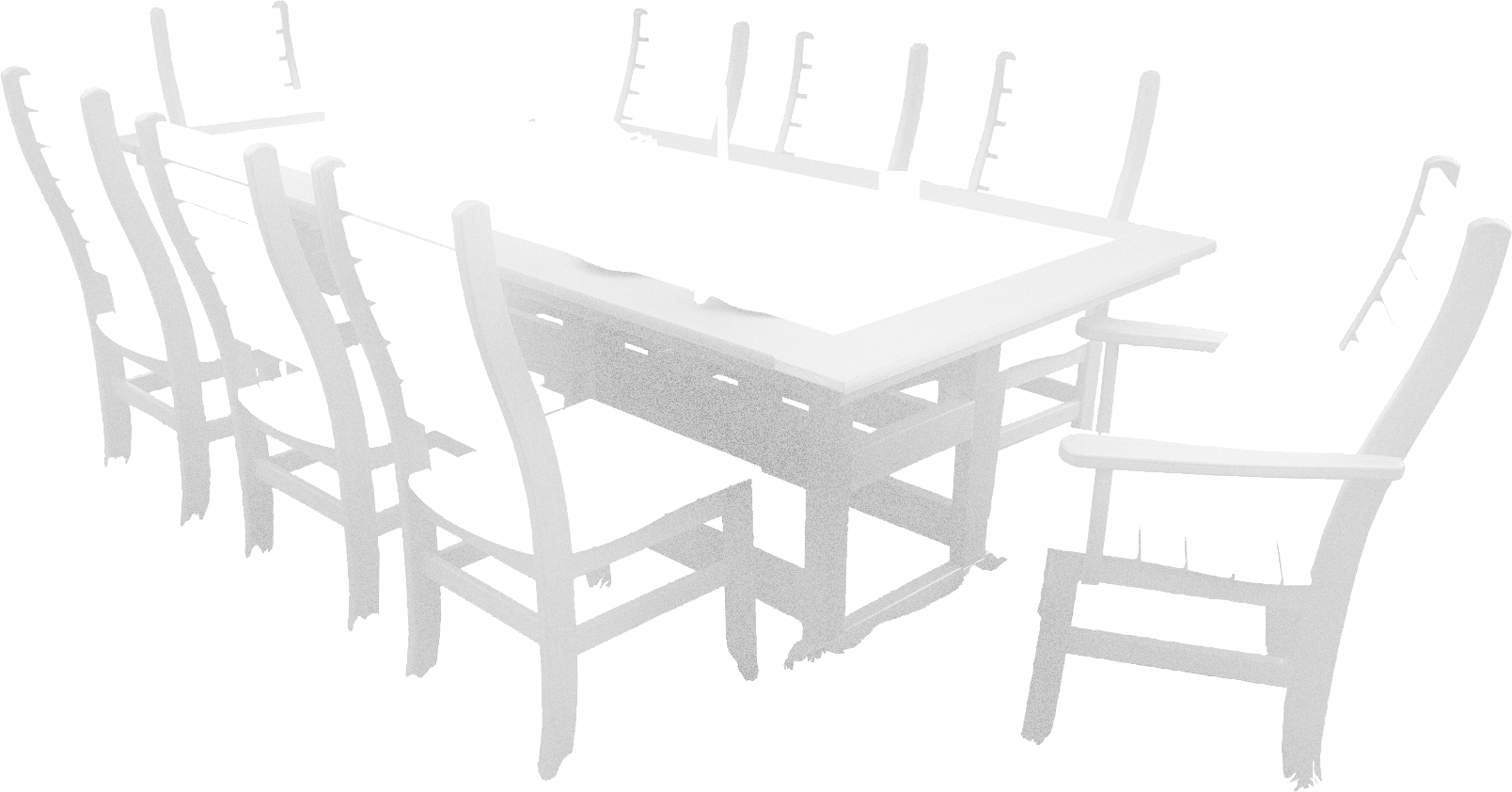 Black

Bright White

Ivory

Tudor Brown

Light Gray

Turf Green

Cherrywood

Dark Gray

Patriot Blue

Weathered Wood

Cedar

Cardinal Red

Blue

Tropical Lime Green

Lemon Yellow

Bright Orange

Aruba Blue

Bright Purple

Bright Red

Pink

Powder Blue

Natural Teak (WOOD GRAIN)

Antique Mahogany (WOOD GRAIN)

Coastal Gray (WOOD GRAIN)

Brazilian Walnut (WOOD GRAIN)

Driftwood Gray (WOOD GRAIN)

Birchwood (WOOD GRAIN)

Seashell (WOOD GRAIN)

Black

Bright White

Ivory

Tudor Brown

Light Gray

Turf Green

Cherrywood

Dark Gray

Patriot Blue

Weathered Wood

Cedar

Cardinal Red

Blue

Tropical Lime Green

Lemon Yellow

Bright Orange

Aruba Blue

Bright Purple

Bright Red

Pink

Powder Blue

Natural Teak (WOOD GRAIN)

Antique Mahogany (WOOD GRAIN)

Coastal Gray (WOOD GRAIN)

Brazilian Walnut (WOOD GRAIN)

Driftwood Gray (WOOD GRAIN)

Birchwood (WOOD GRAIN)

Seashell (WOOD GRAIN)
Dining Table & Bethany Chairs
Something magical happens when we gather with our favorite people around the table. Designed for memory making meals and special times together, our new Oversized Table with Bethany Chairs boasts a roomy footprint (approximately 8-feet by 4-feet), super-sturdy construction, and a reinforced base that stands strong.
The table seats up to 10 people, with a generous width that accommodates full table settings, along with plenty of food and drink placed in the center. Bethany chairs are strong and comfortable, with high backs for extra stability and open sides for ease of movement.
Play up your natural surroundings with an al fresco tablescape. Start with a central idea, then add a runner and lighting, such as candles, as the foundation.
Fill in the rest with flowers, herbs or produce – paying attention to how different colors, textures and shapes impact the total effect.
Snap a picture or two to post on Pinterest, or for personal reference when planning your next gathering.
Important
Though perfectly suitable for use on lawns and other natural terrain, our tables should be stored long-term, on a hard and even surface.
| | |
| --- | --- |
| Accent Color | aruba blue, black, blue, bright orange, bright purple, bright red, bright white, cardinal red, cedar, cherrywood, gray, ivory, lemon yellow, light gray, patriot blue, pink, powder blue, tropical lime green, tudor brown, turf green, weathered wood, woodgrain antique mahogany, woodgrain birchwood, woodgrain Brazilian walnut, woodgrain coastal gray, woodgrain driftwood gray, woodgrain natural teak |